If you haven't heard already, we have a new position at Compass: Senior Case Facilitator.  Three of our leaders were chosen as ginny pigs to step into this new role in each 
region: South Bay, East Bay, and Far North.  What does this mean?  It means we are growing!  This position was created to help sustain our growth and continue to develop leadership roles.  We will be doing 3 posts to highlight each new Senior Case Facilitator.
  Jenn Mazzotti, or J-Mazz as she is more affectionately known around the Pleasanton office, has been with Compass since 2010 when she was hired on as a Case Facilitator Assistant.  She transitioned to Case Facilitator in 2012.  If you know Jenn, then you know she is incredibly passionate about our clients and the work she does.  She is a pillar in the East Bay and we are all excited to see her thrive in this new role.  Enjoy what she had to say about her new role and her journey at Compass…
Tell me about how you got into this line of work.
I received my BA in psychology from Sonoma State. I worked at a DD/SED group home for boys ages 6-18 and fell in love with the clients. I knew this was something I wanted to continue to do. I began working at Compass shortly after, and been here ever since.  
As the new Senior Case Facilitator, what are you most excited about?
So many things! Growth for myself and Compass as an agency. Learning the management side of a business. Creating more leaders!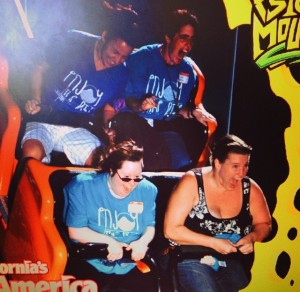 What lessons has your work life taught you?
Here are a few words that come to mind:  Patience, flexibility, accountability, and vulnerability.
You have been with Compass for about 5 years. How have you seen Compass grow in your time here?
When I first started at Compass over 5 years ago, we had no ILS department in the East Bay. Now we have over 30 ILS clients. We had 2 ½ office, and now we are at… 6!?
What do you do to keep yourself positive and motivated when you are having a challenging work day? 
Humor! You have
 to be able to laugh! Oh, and Happy Hour  🙂 
Tell me some of your favorite memories/stories from your time with Compass.
Great America last year with Jeanna, Christi and Nicole H. We all rode the Mickey Mouse roller coaster (I'm petrified of roller coasters, but they convinced me to go on with them) and the picture they got of all our faces was priceless!
What is something that you are really proud of that you have accomplished at Compass?
Growth. I started at Compass as a CFA in 2010, with little to no experience in a leadership role. To look back 5 years and see how much I have grown, not only at Compass but in general is fun to look back on for me. Compass definitely promotes from within and there are always opportunities for growth!
What is one thing people would be surprised to learn about you?
Most wouldn't be surprised in the office, but others might not know… I have two adorable French Bulldogs who are my babies!
What is a quote or saying that is inspiring you right now?
"True leaders don't create followers, they create more leaders."
---
Update
Jenn is still serving in our East Bay region.  She is one of our supervisors for our SLS department.  We LOVE Jenn and her leadership style.  You can find more about Jenn here.