I'm very excited to share a project that has been on my heart and mind for a couple of years.  We want to continue to provide innovative support to staff and feel it is important that we have good communication and excellent training materials available 24 hours a day, seven days a week.
In mid-March, we are launching a new website called CompassLovesU. It is a website dedicated to our field staff in SLS and ILS, who are out making the magic happen! 🙂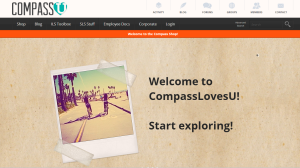 The website has many great features.  First, it is 100% private–Google cannot even see it.  To access, you have to be a member who is approved through our administration.  This provides a safe place for staff to go for information and communication.
The website accomplishes three main goals:
1. A place for community and communication
There will be places to blog and connect with people throughout the Compass organization.  We will also post important dates and information, so nothing gets missed.  There will be groups about topics such as community resources and housing tips.
2. A location for rewards and recognition through our new CompassCoin Shop
After twelve years, we are retiring BravoBucks as a tool to reward staff for a job well done, BUT we are launching a new way for our staff to earn CompassCoins which we affectionately refer to as CompCoins.  It's a way to thank our staff for hard work in obtaining ISP goals and good reviews. An online reward system will keep track of what is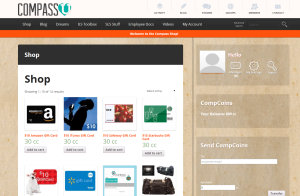 earned throughout the year (no more pieces of paper that are easy to lose).  More importantly, there will be a convenient place to spend the rewards earned.  The shop will have gift cards, paid time off and other redeemable prizes.
3.  A home for information and learning opportunities
You can access handouts on medical conditions, a "toolbox" full of free resources, and a training module that can help you on your career track.  We believe that learning should never stop and this resource is going to help you do just that!  You can even help us add to our library!
As many of you know, we are growing!  Our organization has consistently grown about 20% a year for the past few years.  However, as many of you also know, our funding has not grown.  We are actually just back to the funding levels of five years ago, after our many cuts were restored.  So, we are constantly looking for ways to share information cost effectively, while still helping our staff do their jobs efficiently.  We hope this goes a long way to give our team more tools to keep doing an awesome job day in and day out.