We are excited to start posting some blogs of our client's stories and their lives. Our clients are some of the most incredible people and it is an honor for us to play a part in their stories! Danny V. has written up this blog to share his journey with us. He has a passion for education and he has some links included to help you learn more about his story.  Thanks for sharing Danny!
Hello,
My name is Danny V. I live in Yreka, CA, and I am autistic. I have spent almost thirty-five years of my life, since 1984, in the education field. I am almost thirty-seven years old now. I was born in the Bay Area, and spent the first ninety days of my life in neo-natal care in San Francisco's UCSF's Mount Zion Hospital.
I had to go to Speech Therapy from 1984 until 1988 because I couldn't speak at all. I was able to learn to read shortly after Christmas 1984, got my first computer (an Apple Lisa 2/10) for my third birthday in July 1985, and discovered music along the way. First with Stevie Wonder, then Yo-Yo Ma, through radio and then with Herbie Hancock. It was because of my speech pathologist, that she enabled me to learn. Shortly before I started school, I discovered mathematics, a subject that I have found fascinating for decades now. It was also because of the speech pathologist, I grew to love PBS, more specifically, KQED, the station in San Francisco, through the use of an external Closed Captioning device.
I started school late because I couldn't speak, in September 1988, at the age of six, alongside my non-autistic sibling, my younger sister (who was four) at Woodrow Wilson Elementary in San Leandro. I won an award in January 1989, revolving around Martin Luther King Jr. Day, where I crudely drew Rosa Parks on the front of the bus. My artwork beat the entire school in the competition, where the second-place winner was a sixth grader. I also won an award in June 1989, where after nearly five years of reading, I had amassed the total of over a million pages read.
Over time, I had the fortunate opportunity to go off to the University of California, Berkeley's library and research Mathematics more extensively. It was because of earlier experiences such as riding BART, AC Transit, and MUNI, that I grew to love trains and public transportation as well, which enabled me to draw maps. The usage of computers helped prosper my life as well. It not only helped me do my homework in school but enabled me more and more to do extensive research on subjects I love.
College entered my plans personally in 1994, when my sixth-grade teacher mentioned to my Mom that I belonged in a world-class institution. However, in mid 1998, my cousin (who became my role model) told me about her plans to work in education, which ultimately became the turning point in my life. She was attending Santa Rosa Junior College and had plans to transfer to Sonoma State University, ultimately with the goal of working in an elementary school. I now found a goal, and what I was put on this earth for, to work in education. She has been working in Sonoma County in the Petaluma City Schools system since 2003.
When I graduated High School twice (with both a GED and a High School diploma) in 2001, I didn't go to college straight away. It wasn't until Spring 2013, that I enrolled at Santa Rosa Junior College. I, however, lived 200 miles away in Redding. I had to do it all online, save for one class, Public Speaking. Over the course of the next five years, I worked hard and through determination, got through classes that I found fascinating. These classes had material that I always found interesting, and mostly came from knowledge I learned by watching PBS all these years.  However, I lost my Mom during my time at Santa Rosa. She was my best friend and my only friend around me. She passed away on July 13, 2017, due to a thirty-month battle with breast cancer. I miss her so much.
I became a part of Compass in 2018 and have enjoyed the support of everyone in the Yreka office. Everyone has gone out of the way to make me feel good about myself. They have gotten me through trials and tribulations to help me become a better person, as I live on my own for the first time in my life.
Once I got past the in-person Public Speaking class during the 2018 Spring Semester, I was nearly assured I was going to graduate. I managed to be the first to enroll in the first-ever online-only transferable Mathematics class at Santa Rosa, during the 2019 Spring Semester. I worked extremely hard to pass the class, and it ensured I would graduate one-hundred percent.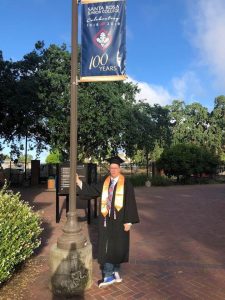 In May 2019, I graduated from Santa Rosa Junior College not once, not twice, but thrice, as I acquired three degrees. The three degrees are in: Social and Behavioral Sciences, Psychology, and the Humanities. I attended the graduation ceremony in person and want to share with you the pictures of my journey and hope you like them.
I, however, am not done with college. I am still a student at Santa Rosa Junior College. I will be getting a fourth Associates degree in Sociology by August 2019, and a fifth Associates degree in Social Justice by mid-December 2019. I am planning on attending Sonoma State University, starting in January 2020. I will be acquiring my sixth degree there in Liberal Arts (focusing on Education). Afterwards, I hope to go to graduate school for my Masters (my seventh degree) at San Diego State University. Finally culminating with the Educational Doctorate (EdD) degree (my eighth overall), at Johns Hopkins University.
I have lived a life of ups and downs. Autism has made me unique. I hope by sharing my story, as well as my graduation pictures, you can learn more about me. You can follow me on Instagram or on Twitter.
Thank you for reading.
– Danny