By Jeni Cheffey
Some of you may know Josiah, and if you haven't met him I sure hope you all have the opportunity to get to have a conversation with him. He is full of knowledge, he  is charismatic and one of the most talented artist you will meet. After spending some time with Josiah, looking through his art work and getting to know him I thought to myself that we have to find a way that Josiah can shine and dream. When chatting with him for awhile it was clear that his passion was teaching and children and that he had always wanted to be in a classroom setting.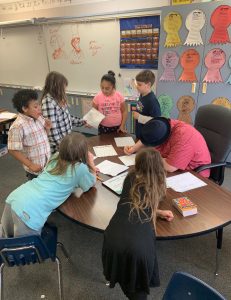 Friday, Josiah visited a small 3rd grade classroom of 15 students at Butteville Elementary school where he took the reigns and played Mr. Shockency for a day. Josiah choose to take advantage of February being the perfect month to teach the students about the presidents. He told the kids several stories and facts to keep them intrigued from George Washington's wooden teeth to how Teddy Roosevelt got such a nickname. Josiah shared stories as the children sat in a circle and listened intently.
After his history lesson he then taught the children some cool techniques to draw familiar faces such as George Washington and Abe Lincoln. Josiah was completely in his element. As a child from the back shouted, "This is so hard, I am not that good," Josiah stopped what he was doing and said, "Don't say that you can do anything you put your mind to, look at me I used to draw stick figures, but because I never gave up I can now call myself an artist." Then he proceeded to draw a student a picture that said "Keep on drawing, and believing"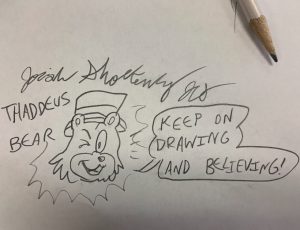 Following his art lesson Josiah decided to draw each and every student a picture. As soon as Josiah finished the only question the third grade teacher had was "When will you be back?"
That day was one for the books, for Josiah and Butteville Elementary! He is full of talents and knowledge and I am so beyond happy that he has now found a place where he can truly be himself and showcase all of his skills!