This month we have been highlighting different friendships in our Compass Community. Friend relationships are some of the most important in life and we love to see how friendships grow in our very own Compass Community! We've asked some of our staff for stories about their friends at work and today we wanted to share a few of those here on the blog!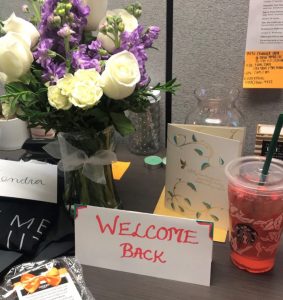 "These are some of the wonderful items my co-workers gathered for my return to work after losing my 45 year old mother to cancer.  It was the most heart warming welcome back I could have asked for. Because of them, I never felt alone or without support. ❤️ " – Kendra S.
"One day I had a super rough morning with my daughters. They were both throwing fits, driving me nuts and making me late to work. In a total lack of control, I yelled at them. I drove to work feeling stressed and full of guilt for having yelled. When I got to work, a bunch of issues were waiting for me made me feel like I had already failed the entire day already. I couldn't ever process how to handle another problem, so stood up from my desk, walked to Tyler's office, closed his door and said, "I need to vent," and I immediately started crying. I don't remember what he said if anything, but I knew he was a friend who could handle me having a rough day and could let me be vulnerable. It was exactly what I needed. From there on out I had a great rest of the day." – Aaron Z.
"Vanessa and I started in the same month, and went through Foundations together in Dec of 2017. We were always so busy that we couldn't keep in contact regularly during work hours. When we had all-hands meetings, Vanessa would always make it a point to chat with me and see how things were going. After the last All-Hands, Vanessa took time out to speak with me about the possibility of promoting. Being able to talk through it with her made such a big difference for me at that time! I was very hesitant to start getting serious, and she encouraged me to apply for promotions and better my situation. I knew some of Vanessa's past experience running businesses and being a manager, so her words were powerful to me. – Susan F.
"Abira always works so hard, and I have wanted to help her out. She brings such positivity to the office! I was lucky that I was at the office yesterday and that I was able to help her jump her car after she had been working late and her battery died. I hope it's ok that I shared that story, Abira!" – Anna L.
"Absolutely.
Anna was a life saver yesterday when I was stranded in the parking lot after work and my car refused to start and it was freezing cold and drizzling. She was kind enough to help me jump start my car. Anna is a wonderful person, kindhearted and always eager to help. It is such a pleasure to have Anna around as a co-worker. I really appreciate her kindness and support." – Abira D.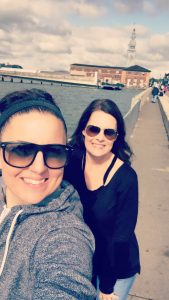 "Jenn and I have worked together for nine years. Through the years, we have weathered it all in our East Bay office. From moving clients ourselves, to driving staff late at night, hospital visits, client support, excited families, meeting deadlines etc; we support each other. We are loyal to our responsibilities; our clients, staff, stakeholders, duties and each other. No one could do it alone, and fortunately for me Jenn has offered me the consistent partnership that has transpired from a stable co worker to a friend. We are able to notice when the other needs a break, laugh or support. Loyalty is the word of the week and I believe that our friendship is a direct result of our loyalty to our responsibilities and each other. We love to reflect on our experiences together, and fortunately laugh about most of them. I look forward to our continued friendship, and truly believe that friendships fostered at the office is a successful and a fun way to be at work." – Rhonda M.
Life at work [and life in general] is so much better when you have friends there to support you and lift you up! Tell us about your loyal friends in the comments below!