Pain and Loss
Even though my parents raised my siblings and myself to be thankful for our many blessings, I did not truly understand the concept of gratitude until I traveled through the pain and experience of loss.
When I was a teenager, my Mother was diagnosed with breast cancer. I knew it was serious but I was completely ill prepared for the challenging years ahead. At first I was positive, sharing hopeful energy with my Mom every day. It was not long before I found it difficult to have any hope and I became quite bitter as she suffered through surgeries, treatments, new diagnoses and literally, pain. I had been working at a residential care facility and the owner, a nurse, noticed my work was suffering. She was not someone I had perceived as nurturing and I had labeled her, in my infinite 19 year old wisdom, "old school" and difficult to please. She pulled me aside and asked about what was happening with my Mom and offered to share honest information about what I could expect to happen to my Mom as her illness progressed.

Lucky
The conversation was graphic, painful and frightening. After the reality of what I could expect broke me down to my lowest point, she told me I was lucky. Lucky? She pointed out that we had been given the gift of time that so many others were not. She pointed out that personally caring for my Mom, tending to her wounds, hugging her as she cried, talking to her about what she wanted her funeral, hearing about her faith, and simply being present with her through her journey were things I should be grateful for. She was right and I have since been grateful to her changing my paradigm that day. She attended my Mother's funeral and I thanked her for the gift she gave me. I started appreciating the smallest of blessings and have tried to make a practice of that ever since.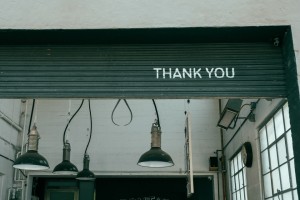 A Feeling of Thankfulness
Gratitude defined is, "a feeling of thankfulness". When you look up "thankful", it reads "appreciation". "Appreciation" reads "to value highly". Gratitude shifts your focus from what you perceive your life to be lacking to the abundance that is already present. Because gratitude encourages us not only to appreciate gifts but to repay them (or pay them forward), the sociologist Georg Simmel calls it "the moral memory of mankind." There is behavioral and psychological research has shown the surprising life improvements that can stem from the practice of gratitude.
Giving thanks makes people happier and more resilient, it strengthens relationships, it improves health, and it reduces stress.
Practicing Gratitude
What does practicing gratitude look like? It could be so many things…Being present in the moment and being thankful; expressing appreciation to another; sending a card; seeing the positive in a situation; repaying a favor; random acts of kindness; noticing the simple things; finding the lesson or purpose in a tough situation; smile; not waiting to tell someone you love them or appreciate them; focus on intention; take a 30 days of gratitude challenge… A common method to develop the practice of gratitude is to keep a gratitude journal. There are journals for this purpose and lots of free printables online. I downloaded an app on my phone that I used when I was feeling down and not very grateful about much. It only took a few days to transform my mood and remind me of the good in my life. I started to reflect on little things that I was previously taking for granted.   I recently discovered a website, 365grateful, that has inspirational stories and the creator's own gratitude project. Another site, gratefulness.org, is devoted to living gratefully.
It is said that a grateful heart is a magnet for miracles. Why don't we start attracting those moments of greatness right now? What are you grateful for? And how can you share your gratefulness with others?