This month we are celebrating 20 years as a Compass community!  To help us celebrate, Jessica is interviewing some of our long time clients as part of our "My Story" series.  Valerie has been with Compass from the beginning!  Her gentle spirit and sweet smile are a bright part of our community.   
HOW DID YOU FIND YOURSELF AT COMPASS?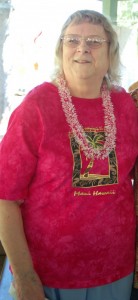 Sadie and Joann were my staff before Compass started.  That's how I came to Compass. I've been with Compass since day one!

WHAT IS YOUR FAVORITE THING ABOUT COMPASS?
 A favorite thing about being a part of Compass is that I like the staff.  They are so nice and they really help me out.  They drive me everywhere.  Sadie took me to Dairy Queen.  It's always fun to see her when I'm at the office.  I stay with Compass because I like the staff. We go grocery shopping, to the movies and the Senior Center at Dignity Health.
WHAT DO YOU DO FOR FUN?
I play chair volleyball at the Senior Center at Dignity Health on Mondays, Wednesdays and Fridays.  Chair volleyball is where you sit in a chair and use your arms to throw the ball.  Then we play bingo after.  When I'm home, I like coloring in adult coloring books, and I like to draw with pencils and colored pencils.  I like living here because it's quiet.  One of the things I like doing at Compass they don't do as much any more.  I liked it when they played Bingo in the office (during staff meetings) because I got to see other clients there.  That was fun.
WHAT IS YOUR FAVORITE COMPASS MEMORY?
 I don't really have a favorite Compass memory.  There are too many good memories to pick just one. I enjoy the people at Compass because they are funny.  The part of Compass makes me laugh the hardest is talking to Josh.  Talking to Josh makes you laugh.  If someone wanted to join the Compass family,  I would tell them that it's a good company, and I think everyone should join who wants to have fun!